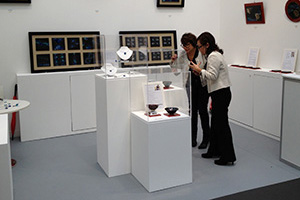 Salon RELEVATIONS ? GRAND PALAIS was held to great acclaim from 11-15 September, 2014. This was the first Salon RELEVATIONS ? GRAND PALAIS to be held in France. The first day was met with long queues and a wait of around one hour to gain entry to this exhibition, and welcomed a number of distinguished guests included members of the Royal Family of Norway. With over 33,000 visitors across five days, the exhibition proved itself to be one of Europe's finest.
Around 300 artists from 100 companies around the world were selected to participate in the exhibition. Haruhiko Kaneko and Ishigaki-yaki Pottery Studio were chosen to fill one of the limited places (30 companies, 100 artists) for international participants. Haruhiko Kaneko was particularly honoured to be the only artist selected from Japan to be a part of the exhibition.

French participants included several Un des Meilleurs Ouvriers de France (MOF, contemporary craftspersons recognised as having outstanding skills) and craftspeople and artists designated as living national treasures. The Ishigaki-yaki Pottery Studio stand welcomed an endless stream of visitors, including many Parisian locals. The Studio was also delighted to welcome Miss France, the winner of Miss International 2012, to the stand.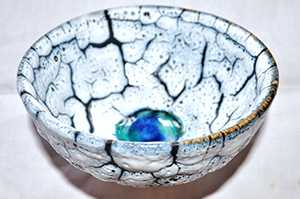 The three-part work, Hokuto Shichisei (The Big Dipper), a multimedia piece combining Kaga maki-e lacquerware, ceramic, glassware, and pearl, was selected to become part of the permanent collection of the Ateliers d'Art de France.

Kaneko's artwork prompted the interest of the Master Alliance of Ceramic Art in China, which has subsequently exhibited two pieces?one yohen-taihi tenmoku tea bowl with characteristic iridescence and oil-spatter pattern and a yuteki tenmoku tea bowl with a characteristic black glaze?in the Tao Art Gallery in Shanghai, and continued to exhibit the pieces at various shows throughout China until the middle of October 2014.

The exhibition was also the first showcase anywhere in the world of two new collaborative pieces, made with glass, ceramic material, and Kaga maki-e lacquerware: Fujin, Raijin (God of Wind, God of Thunder) and Shunka Shuto (Four Seasons). These pieces have also been shown as part of the subsequent exhibition Kanazawa: Origins of a Samurai Culture, alongside personal items of Toshiie Maeda, one of the most powerful generals to serve under Nobunaga Oda in the sixteenth century.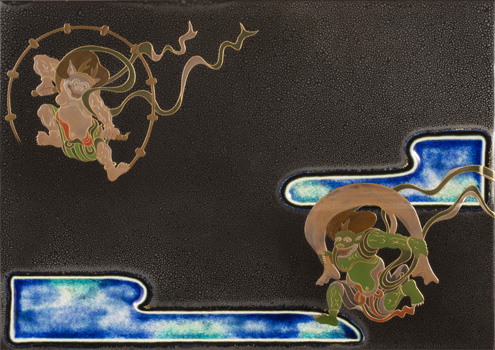 This collaboration is a dream come true,

combining Ishigaki-yaki pottery with the Kaga Maki-e technique of lacquer ware decoration using shell and gold or silver powder.
Lacquer is known for its adhesive properties, but even if adhesion is initially successful, it will gradually peel off ceramic and glass surfaces, which are smooth and non-absorbent, as a result of stress and fracture over time. As such, it was long thought impossible to bring pottery and lacquer together.

Now, however, with the support of Mr. Takada, a Kaga Maki-e artist, we have managed to overcome these challenges and develop a technique for decorating pottery and glass with maki-e. This has resulted in the birth of an entirely new type of artwork.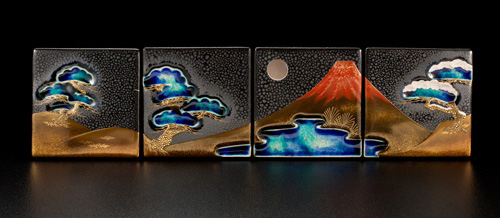 In 2013, we first showcased the result of this collaboration at Salon REVELATIONS-GRAND PALAIS, a International fine craft and creation fair in Paris, France. The items exhibited were the first example in the world to combine pottery, glass, and maki-e decoration.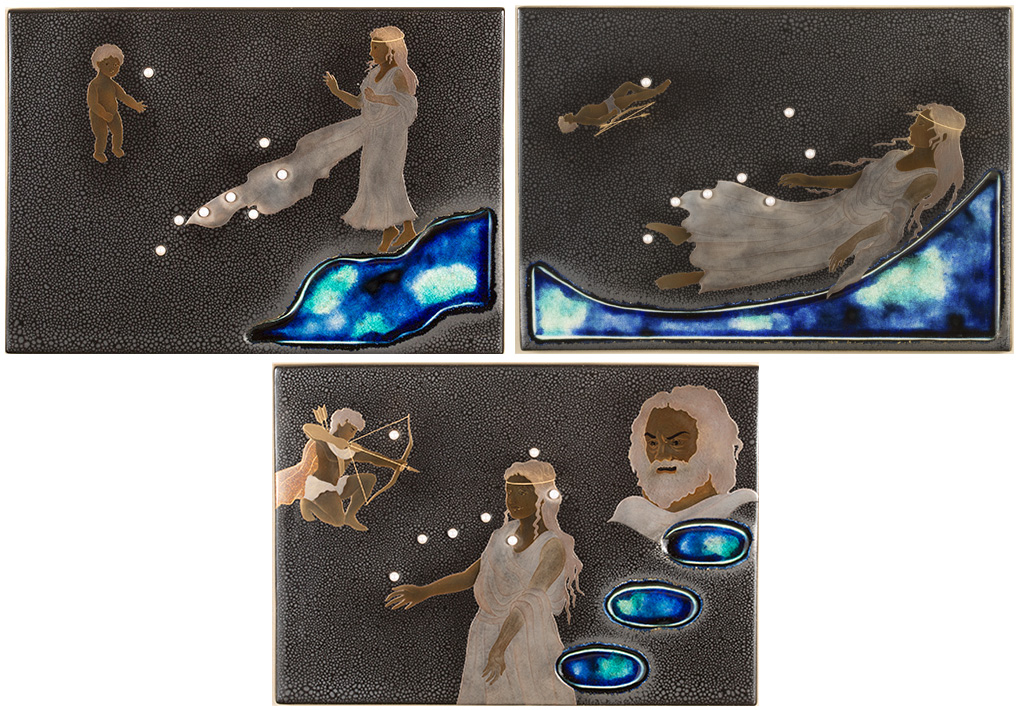 Other exhibits included an illustration entitled The Big Dipper, created using Kaga Maki-e decoration, yuteki tenmoku glaze, glass, and pearls. These three pieces are now part of the permanent collection of the Ateliers d'Art de France Foundation.

A collaborative piece combining the Kaga Maki-e decorative technique, originating in Kanazawa, with Ishigaki-yaki pottery. This is the first example in the world of the successful combination of these two media.

It was shown at Salon REVELATIONS ,International craft and Creation fair in Paris, as well as at the Kanazawa-Origins of a Samurai Culture exhibition, also held at Maison de la culture du Japon a Paris, France.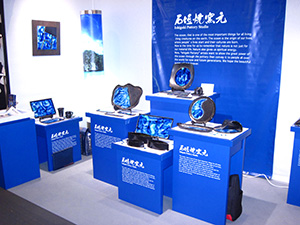 Maison & Objet, held annually in Paris, is one of the world's most renowned trade fairs. It is said to be the "Paris collection for interior design", and is considered to be an important gateway to international recognition and success. Only two Japanese companies have exhibited artworks in the Craft hall (Hall 4) for three consecutive years; one of those is Ishigaki-yaki Pottery Studio. The studio has not exhibited since 2013, but the three years Ishigaki-yaki Pottery Studio participated in the event were formative, helping to shape the path which the studio is now taking towards the future.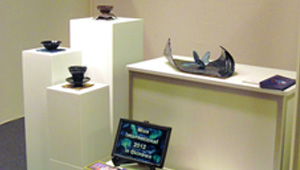 The SALON INTERNATIONAL DU PATRIMOINE CULTUREL (International Heritage Show) was held in the Carrousel du Louvre in Paris from 8-11 November 2012.
The event was a perfect platform on which to showcase yohen-taihi tenmoku tea bowls (with characteristic iridescence and oil-spatter pattern) and hekikai konoha tenmoku tea bowls (a fusion of glass, pottery, and tree leaf).
Happily the visitors, who included tourists, collectors, art historians, and wealthy individuals, appeared unanimous in their admiration for Kaneko's exhibits.
The Carrousel du Louvre is located below the Musee du Louvre and is part of the palace. It is well known for being the location chosen by Chanel to showcase its new collections twice each year.

Participation in the show is by strict selection only; participants in 2012 included a number of Un des Meilleurs Ouvriers de France (MOF, contemporary craftspeople recognised as having outstanding skills), and craftspeople designated as living national treasures. The event is a wonderful opportunity to view outstanding French craftsmanship, including lace, stained glass, and reproductions of 12-13th century ceramic plates.